Modern Commercial Building @ Pattaya City Center
BARGAIN PRICE down from 42 MB now only 36 MB
This modern commercial building is most prominently located on one of the busiest and well frequented main roads right in the Pattaya center.
This is a 4-storey corner building with a highly visible business front along the main road and a side façade with a separate entrance to the rental apartments on 2nd, 3rd and 4th floors. The building was completed in 2010 to commence business operations.
The business shop on ground floor measures a total of 120 sqm usable area, with 96 sqm indoor and 24 sqm usable space outdoor and features soundproof floor to ceiling window and display fronts towards the main as well the side roads. All comes with ceramic tile floors, gypsum ceiling with integrated lighting, air-conditioning and a separate guest restroom.
The second, third and fourth floors feature each a spacious corridor, one 25 sqm apartment and two 16 sqm apartments. Totaling three 25 sqm rooms and six 16 sqm rooms. All fully furnished with big screen TV, windows with a view and each room with its own en-suite bathroom.
This is a successful investment property ready to takeover to generate a steady income stream. We look forward to provide you with more information. We are open 7 days a week for private consulting and viewing arrangements. Just give us a call one day in advance. We look forward meeting you.
Close to international hospitals
Close to public transportation
High speed internet
International restaurants around
International school nearby
Public transportation nearby
Fully furnished
Aircon
Refrigerator
Flat screen TV
Internet ADSL connection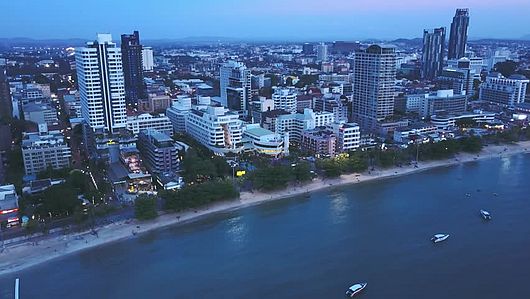 Pattaya
Central
Pattaya is generally split into Pattaya North, Central, South and East. Pattaya Central features the shopping and entertainment district with the sandy Pattaya Bay as the main attraction. There you find international luxury hotel chains, great internal shopping centers and some elective beachfront condominiums.