Wongamat Tower
Ocean views towards Wongamat Beach, Naklua Bay and the Sanctuary of Truth
Luxurious new Beach Condo - This high rise condominium is positioned in a tranquil, seafront environment and is yet conveniently situated only minutes from downtown Pattaya. Picture a Tai-Chi practice at sun rise; a cold beer on the beach with the sand between your toes; enjoy the waves while windsurfing, sailing or swimming - anything is possible at the Wong Amat Tower.
With elegant surroundings Wong Amat is an area of unmatched natural beauty in Pattaya. Situated less than 50m from the beach and rising 38-storeys skywards, this condominium is well positioned to take full advantage of this picturesque location.
State-of-the-art design, apartments and public spaces in this building offer endless vistas from morning to night thanks to the transparent glass walls from floor to ceiling. State-of-the-art engineering enables other key features such as a soaring 13-meter high lobby area and fewer structural columns throughout the building for increased livable floor space. - And, did we mention the spektakular roof-top swimming pool ... come and see ...
Close to international hospitals
Close to the beach
Convenient stores nearby
Gym / Fitness center
Just steps to the sandy beach
Modern interior
Nice swimming pool
Pattaya Bay view
Roof top pool
Sea and island views
Sea views
Spacious sundeck balcony
Views along Wongamat beach
Close to the beach
Car park private
Swimming pool
Gymnasium
Mini mart
Restaurant
24 hrs. security
Key card entry system
Public school nearby
General hospital nearby
International hospital nearby
Fully furnished
European Kitchen
Aircon
Refrigerator
Hob / electric range
Hood
Oven / stove
Microwave
Flat screen TV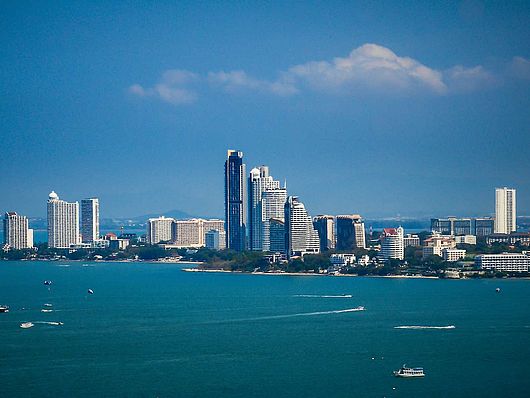 Wongamat Beach
Wongamat Beach at the North of Pattaya is a prime beach area with private residential beachfront condominiums and international beachfront hotels. The beach is sandy and slowly descending into the sea. Ideal for bathing, swimming, relaxing and just enjoying the day. The scenery is magnificent with the islands in front and fantastic sunsets at evenings. If you have the pleasure of living in one of the beachfront hotels or even in one of the great beachfront condominiums then you will have a one-million-dollar-view over Pattaya by night – stunning! Needless to say that this is the area to be.